Hi at All
Pike car (Hechtwagen) is a colloquial term for coaches which is derived from the comparison of the car shape with the shape of the head of a pike.
The bodies of this cars are beveled down to the ends and be this narrower, which allows a better use of the light space especially in tight corners.
Commonly known as "pike cars" are the unitised express coaches which were built between 1921 and 1928. These are types 21, 22, 23 and 26 of the German Reichsbahn.
All passenger coaches had a uniform length over buffers of 20.61 m.
Overall the following car types were built:
•
214 passenger coaches
(gender code
AB4ü
,
C4ü
)
• _
10 baggage cars
(gender code
Pw4ü
)
• _
10 mail baggage cars
(gender code
Post4ü
)
• _
31 sleepers
(gender code
WL4ü
)
Not yet one dining car (gender code
WR
) is on the list. Sorry, but there were not one of these vehicles in use and certainly not in the DB stock.
But some model railway manufacturer brought such models on the market.
They took the red sleepers (WL), printed the MITROPA or DSG sign on the livery and the gender type WR.
This cars were sometimes in coach sets. Scratchbuilders works are not part of this post.
But no rule without exception!
>> The only pike dining car - a loner from the GDR. <<
This pike - dining-car is a post-war reconstruction of the Deutsche Reichsbahn (GDR).
The basic of this conversion was the sleeping car WL 36-036. The vehicle conversion was done in the RAW-Gotha works in 1957 and got the gender WR4ü with the number 10258.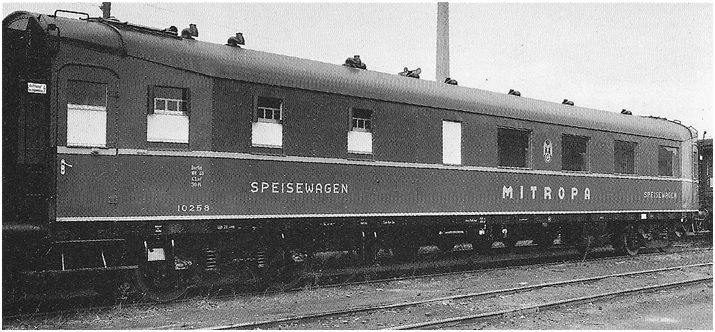 WR4ü 10258
© Factory picture RAW-Gotha 1957 / Collection: Theurich
This car has been around years later in 055-007 numbered.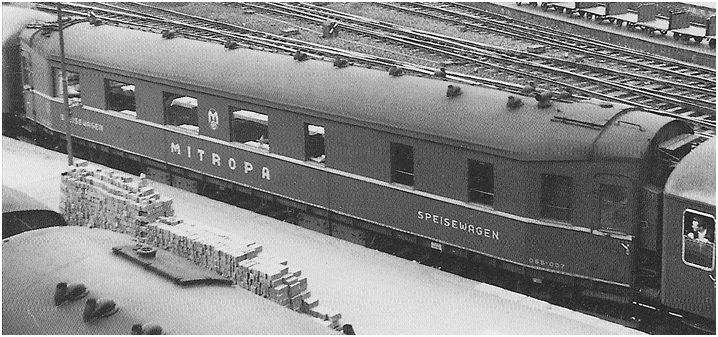 WR4ü 055-007
in Hamburg Hbf am 17.05.1961 / Collection: Claus
Picture source:
Book - Albert Mühl, 75 Jahre Mitropa, die Geschichte der Mitteleuropäischen Schlafwagen- und Speisewagen Aktiengesellschaft © 1992 EK-Verlag, Freiburg