A collection of trains taken from research, to model a more realistic train, mainly based on Northern German formations,

For modellers and newcomers with images to assist recognition of Locos and coaching stock.

This will be updated regularly.

My research has been aided by contributions found in books and from knowledgeable members of the following Forums, to whom I offer my much appreciated Thanks!
HO scale trains on the disrubahn DB Epoche IIIb/IV fast and local trains. Eilzug with DB BR 41 Roco/Fleischmann rebuilt model and DB BR 23 Roco. Nzug with DB BR 78 Liliput 

Bfw4wg Centre entrance Driving coach Roco 44682
B4ymg Centre entrance 2 Klasse Roco 44680
B4ymg Centre entrance 2 Klasse Roco 44680
AB4ymg Centre entrance 1/2 Klasse Roco 44681
B4ymg Centre entrance 2 Klasse Roco 44680
B4ymg Centre entrance 2 Klasse Roco 44680

B4ywe 2 Klasse Liliput 328681
AB4yswe 1/2 Klasse Liliput 328793
B4ywe 2 Klasse Liliput 328681
B4ywe 2 Klasse Liliput 328681
Pw4ue Full Baggage Liliput 328901 (needs back dating to Epoche III)


DB BR 03.10/ 03

B4ywe 2 Klasse Liliput 328681
B4ywe 2 Klasse Liliput 328681
B4nb 2 Klasse Silberlinge Roco 45481
AB4yswe 1/2 Klasse Liliput 328793
B4ywe 2 Klasse Liliput 328681



DB BR 23

A4ue 1 Klasse Pre- war stock Fleischmann 5631
MD4ie Aux Baggage Roco  45919/44053
B4nb 2 Klasse Silberlinge Roco 45481
B4nb 2 Klasse Silberlinge Roco 45481
B4nb 2 Klasse Silberlinge Roco 45481
AB4yswe 1/2 Klasse Liliput 328793
B4ymg Centre entrance 2 Klasse Roco 44680


DB BR 01.10 Oil

Post 4mg 26.4m coach philatelie.deutschepost.de 011275
MD4ie Aux Baggage Roco 45919/44053
B4nb 2 Klasse Silberlinge Roco 45481
B4nb 2 Klasse Silberlinge Roco 45481
AB4nb 1/2 Klasse Silberlinge Roco 45480
B4nb 2 Klasse Silberlinge Roco 45481


DB BR 01.10 Coal

Pw4ue Full Baggage Liliput 328901 (needs back dating to Epoche III)
B4nb 2 Klasse Silberlinge Roco 45481
B4ymg Centre entrance 2 Klasse Roco 44680
AB4ymg Centre entrance 1/2 Klasse Roco 44681
B4nb 2 Klasse Silberlinge Roco 45481
B4ymg Centre entrance 2 Klasse Roco 44680


DB BR 01 Bw Paderborn

B4ymg 2 Klasse Roco 44680
B4ywe 2 Klasse Liliput 328681
B4ywe 2 Klasse Liliput 328681
AB4ymg Centre entrance 1/2 Klasse Roco 44681
BD4yge Umbau 2 Klasse/ Baggage Roco 44254


DB BR 03

B4um
2 Klasse
Roco
44740
B4um
2 Klasse
Roco
44740
ABum
1/2 Klasse
Roco
44742
B4um
2 Klasse
Roco
44740
B4y
2 Klasse
Liliput
328691
B4y
2 Klasse
Liliput
328691
Pw4ue
Full Baggage
Liliput
328901 (needs back dating to Epoche III)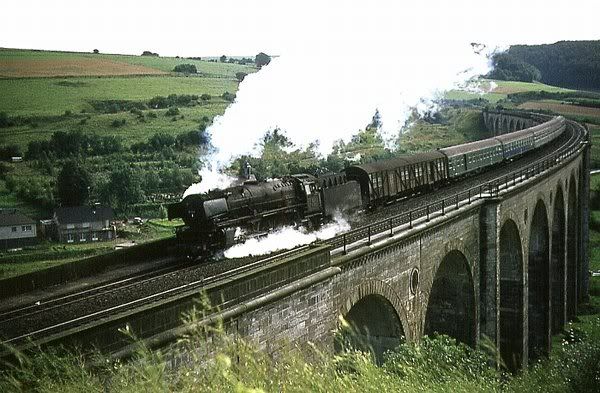 DB BR 01 Neubaukessel

MD4ie Aux Baggage Roco 45919/44053 
Bfw4wg Centre entrance Driving coach Roco 44682
A4um 1 Klasse Rivarossi 4012
B4nb 2 Klasse Silberlinge Roco 45481
B4nb 2 Klasse Silberlinge Roco 45481
B4nb 2 Klasse Silberlinge Roco 45481


DB V200

BD4uf Driving trailer Silberlinge Roco 45482
AB4nb 1/2 Klasse Silberlinge Roco 45480
B4nb 2 Klasse Silberlinge Roco 45481
B4ymg Centre entrance 2 Klasse Roco 44680


DB BR 03.10/03 (1963 formation)

Post 4mg 26.4m coach philatelie.deutschepost.de 011275
B4nb 2 Klasse Silberlinge Roco 45481
AB4nb 1/2 Klasse Silberlinge Roco 45480
B4nb 2 Klasse Silberlinge Roco 45481
B4nb 2 Klasse Silberlinge Roco 45481
B4nb 2 Klasse Silberlinge Roco 45481


DB BR01 Neubaukessel

AB4yswe 1/2 Klasse Pre-war stock Liliput 328792
B4um 2 Klasse Rivarossi 4014
B4nb 2 Klasse Silberlinge Roco 45481
B4nb 2 Klasse Silberlinge Roco 45481
MD4ie Aux Baggage Roco 45919/44053


DB BR01

A4um 1 Klasse Rivarossi 4012
B4ye 2 Klasse Pre-war stock Liliput 328691
B4yge 2 Klasse Umbau stock Roco44363
B4yge 2 Klasse Umbau stock Roco44363
BD4yge 2 Klasse/baggage Umbau stock Roco 44370


DB BR03

Pw4ue Full Baggage Liliput 328901 (needs back dating to Epoche III)
B4um 2 Klasse Rivarossi 4014
AB4um 1/2 Klasse Roco 44742
B4um 2 Klasse Rivarossi 4014
B4um 2 Klasse Rivarossi 4014

BD4yge 2 Klasse/baggage Umbau stock Roco 44370
B4ymg Centre entrance 2 Klasse Roco 44680
B4ymg Centre entrance 2 Klasse Roco 44680
B4ymg Centre entrance 2 Klasse Roco 44680
AB4um 1/2 Klasse Roco 44742



BR 23 (Roco) or BR 39 (Fleischmann)

B4um 2 Klasse Rivarossi 4014
B4um 2 Klasse Rivarossi 4014
B4um 2 Klasse Rivarossi 4014
AB4ymg Centre entrance 1/2 Klasse Roco 44681
Pw4ue Full Baggage Liliput 328901 (needs back dating to Epoche III)