Push pull trains of the DB and how to model them,
My research has been aided by contributions found in books and from knowledgeable members of the following Forums, to whom I offer my much appreciated Thanks!
The trains shown below are based on this information, some models suggested are no longer available.
First train is a four coach formation using Bi Stock.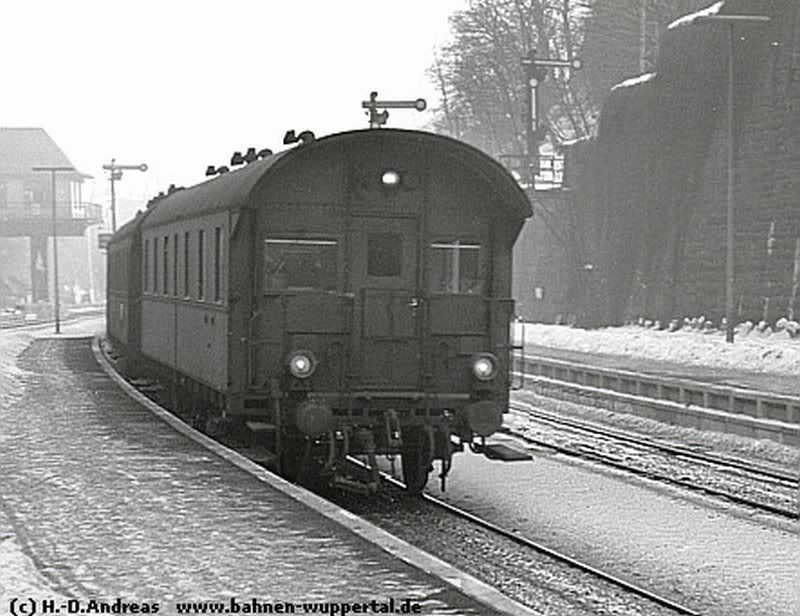 Photograph by H.D Andreas sourced www.bahnen-wuppertal.de
Train arriving at
Wuppertal Elberfeld
early 1960's
Bi
Steuerwagen Roco 44201 converted using Weinert kit 9258, Fleischmann 507801
Bi
2 Klasse Roco 44201
ABiw
1/2 Klasse Roco 44211
Bi
2 Klasse Roco 44201
Loco DB V36 or DB BR 78
Weinert
catalogue and yearly new products brochures see
http://www.weinert-modellbau.com/
for conversion kit go to seite 80
http://www.eisenbahnstiftung.de/bg/?action=showpic&num=0&search=P%203824
78 173 running on the Wuppertaler Locallines with a Bi-Wagen formation Wendezug P 3824 heading for Unterbarmen, passing a BR 38 on the Fast tracks. (16.03.1962) Foto: Wilfried Sieberg