A collection of trains taken from research, to model a more realistic train, mainly based on Northern German formations,

For modellers and newcomers in English, with images to assist recognition of Locos and coaches/wagens.

This will be updated regularly.

My research has been aided by contributions found in books and from knowledgeable members of the following Forums, to whom I offer my much appreciated Thanks!
Also see Information about DB operating procedures
http://germanrail.8.forumer.com/viewtopic.php?t=4434
Goods trains followed the same principals of train services as passenger trains:
They were scheduled to strict timetables and were classified as follows:
Ng
(Nahguterzuge) this is a train that served all stations on a set route, in affect a pick up goods train.
This train would drop off/collect wagens en route, shunting with the train locomotive or by the station based (Kof) shunter.
The most common locos used for this service were the DB BR 50 series.
Dg
(Durchgangsguterzug) are mixed heavy goods through trains that travel between major railway centres (marshalling yards).
Max 80 Km/h.
Most in the Paderborn area were in the region of 40 plus wagens, also noted that empty passenger coaches were also moved by these trains.
These were the domain of the DB BR 41 & 44.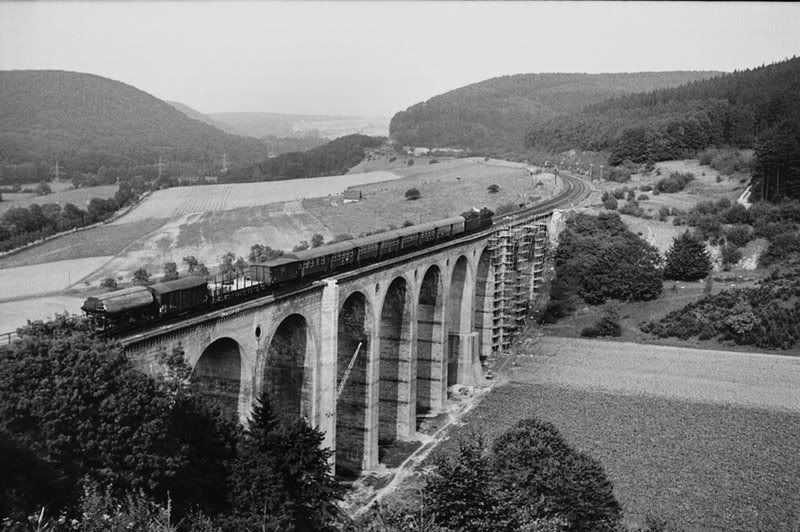 Ottbergen DB BR44 on Ng 9017 on the Dunetal-Viadukt between Paderborn and Altenbeken, as can be seen four empty coaches are part of the train (25.08.1967).
Photograph by Reinhard Gumbert sourced DSO
De
(Eilguterzug) Light fast goods train,
Used passenger rated baggage cars and goods wagens rated up to 100 km/h "s" and 120 Km/h "ss"
Locomotives I have seen on these services include 01, 01.10, 03, 10, 23, 38, 41, V200, V300
Please see
http://germanrail.8.forumer.com/viewtopic.php?p=26393#26393
Sg
(Schnellguterzug) Fischzüge, Agricultural produce (Fresh Fruit & Vegetables), Stückgüterzüge.
Expr
(
 Expressgutzug  with Expressgut-Kurs- and Postwagen
): see 
http://germanrail.fr.yuku.com/topic/3654/Modelling-DB-Epoche-III-Expressgutzge-in-187-HO#.V2JtL_mLQ2w
TEEM
(Trans Europ Express Merchanise)
Introduced in 1961 as a fast international express freight service, calling at major marshalling yards en route, with a much speeded up formalities at Border controls.
Maximum weight per train 1000 tons or 100 axles, running at speeds of 100Km/h.
Please see
http://germanrail.8.forumer.com/viewtopic.php?t=4187
Gag
(Ganzzug) a block train working of Coal, Oil tank wagens, 4 or 6 axle Ore wagens, Cars, Containers and seasonal Zuckerruben in open wagens.
Ub
(Ubergabezuge) a trip working between stations and siding connected industry, by station based Shunting Locomotives, ie:- Kof , V60 or BR 80 as examples.
http://www.eisenbahnstiftung.de/images/bildergalerie/3422.jpg
052 404 (50 2404) on Üg 60618 (Betzdorf - Wissen) by Kleehahn. (06.06.1975) Foto: Peter Schiffer
http://www.eisenbahnstiftung.de/images/bildergalerie/4025.jpg
Übergabezug working with an unidentifed 323 on the Ahrtal by Rech. (12.06.1973) Foto: Peter Schiffer;
This image shows just how versatile these small machines are.
PmG
(Personenzug mit Güterbeförderung) Passenger train with Goods wagons attached:
Lz
(Lokzug) Train comprising entirely of Locomotives:
Locomotives grouped into a storage siding at large stations after arrival on trains, then moved in a coupled group to the Bw:
Locomotives being moved on allocation to new Bw's:
Group being taken to Ausbesserungwerk or to scrapyard:
All information most welcome!