I was roughly a ten year old boy when I visited the Nuremberg railway museum together with my father and heard about and saw the
05 001 for the first time in my life and immediately fell in love with her:





I was fascinated that the 05 002 was a world record locomotive - that she was the world's first locomotive that exceeded the
200 km/h (124.27 mph) limit on May 11, 1936: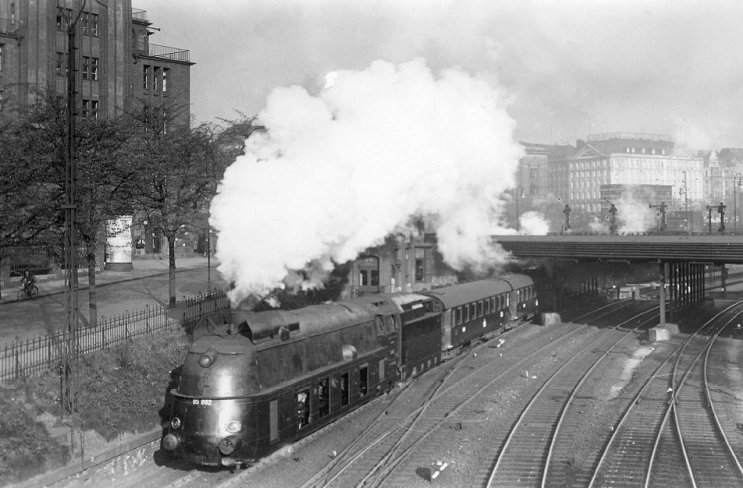 The making of 05 002:



It was said that this record was later taken away from 05 002 in 1938 by the British 'Mallard':




But apparently the measurements were not precise enough, so Bryan Benn came to the following conclusion on his
website (http://www.germansteam.co.uk/FastestLoco/fastestloco.html), after scrutinising all available documents:

"The combination of points 1 to 3 above lead me to conclude
05 002 deserves the title of the "World's Fastest Steam Locomotive"

Meanwhile I'm a grandfather and in 2009, when my grandson was 10, we visited the Nuremberg railway museum -
again accompanied by my dad. So there were four generations - grand-grand-dad, grand-dad, dad and my
grandson - standing in front of 05 001 and admiring her.


Streamlined locomotives in Germany:




Evolution from the 'Flying Hamburger' to the 'ICE':




Until recently I thought the 05 class was the only German steam locomotive that had streamline livery.

But then I stumbled across the 01 1102:




I was so fascinated and started to look for more information, photos and videos of this beautiful machine on the web. I found a lot of
them and would like to share them with you:

Heilbronn railway museum:
http://www.eisenbahnmuseum-heilbronn.de/haupttext_01_1102.html


01 1102 - Ahr valley courier:




01 1102 at Rheydt-Odenkirchen:




01 1102 & 95 016 at Gehlberg:




01 1102 at Ottbergen:



In some of the videos I noticed an interesting detail: one of the wagons hauled by the 01 1102 seemed to have a long
history - reaching back as far as 1935.

It is the the blue wagon with the panorama section at the round end:




It had been part of the Henschel-Wegmann-Gegenzug, that was hauled by also streamlined locomotives of the 61 class. This
end car had been brought in line with the end car of the original Henschel-Wegmann-Train.

The Henschel-Wegmann train was initially displayed at the Great Exhibition celebrating the centenary of the German Railways
from July 14th to October 13th, 1935, in Nuremberg. There were two class 61 Locomotives:

the 61 001:





and the 61 002:




In contrary to 61 001, the 61 002 was given a three-axle trailing bogie, a third cylinder and larger coal and water tanks, as
well as smoke deflectors above on the chimney - otherwise the design and the components were the same as her
predecessor.

05 002; 61 001 with Henschel-Wegmann-Train:




While on November 2, 1951, 61 001 was badly damaged in an accident at Münster and as a result was retired on
November 14, 1952, and scrapped in 1957, 61 002 was converted by the Deutsche Reichsbahn of East Germany
at the workshop in Meiningen in 1961 into a high-speed experimental locomotive with a tender and the running
number 18 201:




With a new-design boiler, outer cylinders from the experimental locomotive, H 45 024, and a new welded inner cylinder
(the original cylinders were designed for a steam pressure of 20 bar and had too small a bore for the new, 16 bar boiler)
and the carrying axle from the high-pressure locomotive, H 45 024, she attained speeds of up to 180 km/h; the highest
speed ever measured was attained on October 11, 1972: 182.4 km/h (113.34 mph)!
Today the 18 201 is the fastest operational steam locomotive in the world.


18 201 fast run on June 02, 2011:



Originally I only wanted to list fully streamlined locomotives, but as the just half streamlined 18 201 made her way on the
list (because a major part of her once was the fully streamlined 61 002), I think its only fair to include the half streamlined
DB class 10 with the cone-shaped smoke-box door as well.

Class 10 was meant to replace the classes 01, 03, 18.5 and 39.

But class 10 had very a high axle load and so could be used just on a few lines back then.
Due to the fast structural change in West-German traction, no more than two class 10 locomotives had been built in 1957.

While 10 002 was scapped in 1972 at AW Offenburg, 10 001 is on static display at the
'Deutsche Dampflokomotiv-Museum (DDM)' (German Steam Locomotive Museum) at
Neuenmarkt-Wirsberg. http://www.dampflokmuseum.de/cms/:





But there were even smaller streamlined locomotives - the class 60:





This class was used to haul the first double stage coaches in Germany:




These trains were running at speeds of up to 120 km/h (74.56 mph) both - in pulling and pushing mode.


But the "German Streamline-Story" does not end here.
There were also streamlined versions of class 01.10 and 03.10 (from 1934 onwards).

Streamlined 03 193:




After WW II streamline liveries were removed from all German steam locomotives, despite the fact that they allowed for
higher speeds and less fuel consumption.

01 1102 got its streamline livery back in 1996 and has been in operating condition until 2004. Ther are efforts to rework
her to operable condition.

05 001 got its streamline livery back in the early 1960s and is on stationary display at the Nuremberg railway museum.


From 1933 onwards, tests with locomotives with steam-driven motors were conducted. In 1941 this resulted in the fully
streamlined steam motorised prototype locomotive no. 19 1001 (Henschel, class 19.10):





After the war US Army shipped the 19 1001 as spoils of war to the US in 1945, where it was on display at Fortress Monroe
(Virginia) until it was scrapped in 1953. Further information (German only), as well as drawings and photos can be found
here: http://schneider-mayenfisch.com/drg_lokomotiven_19_1001.htm

I don't know if this list is complete. If you know of further German streamlined steamlocomotives and have links to photos/
videos, please contribute.